Skutt Legend 1/2 hp Potter's Pottery Wheel with SSX Control - $99.00 Shipping Canada Wide
The Skutt Legend pottery wheel is the perfect model for schools. It is easy to clean because the wheel head comes off. Students can take the whole one piece pan to the reclaimer for dumping and then to the sink for a final rinse. From the motor to the foot pedal, these things are built to handle all the abuse the classroom can dish out. Plus it's all backed by the best 10 year parts AND LABOR warranty in the business.
What's Included: Packed with the wheel you will find the following items:
14" Diameter Wheel Head
Reversing Switch
1/2 hp Continuous Duty Motor
Splash Pan
Foot Pedal (Attached)
Bat Pins
Skutt Manual
Features and Benefits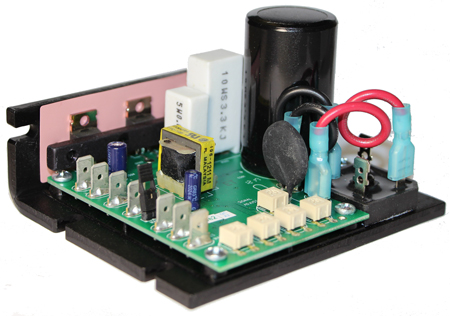 Better Control – SSX Controller
These controllers utilize an extra-large capacitor to store power and then feather it in when you want to change speed. This is critical when throwing large pieces at slow speeds to avoid sudden surges that will damage your pots.
Due to the fact that our wheels have enough power, we turn off a feature found on most wheel controllers called IR Comp. IR Comp is a setting on the controller  that acts like cruise control in your car. We all have experienced that cruise control  can be a little jerky at times. Our motors don't need it, so we do not turn it on.
The Motor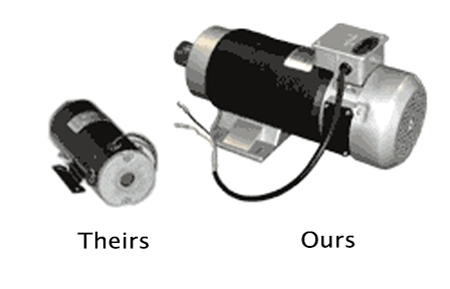 Skutt is the only company we know of that uses a Continuous Duty motor. These motors are tested under much more rigorous conditions so they need to be built tougher. That means heavy duty components that can stand up to the strain students (and big pot potter's) can subject them to. Sometimes bigger is better.
Okay, where do we start. Probably the best place to start is to talk about torque at the wheel head. For years wheel companies have been trying to one up each other on "how much clay their wheel can center". The bottom line is, horsepower is horsepower. The amount of torque you can produce at the wheel head is related to horsepower. Other factors, like controller settings, pulley size and belt slippage, can affect how you maximize this torque, but they cannot increase it. We use a 6 V-groove belt which gives us a lot of surface contact and prevents slippage. We will get into controller settings later.
Electric motors are rated as Continuous Duty or Intermittent Duty. A continuous duty motor has been tested under a load with the assumption that it is going to be under that load "continuously". The motor is tested under a load until the temperature of the motor reaches thermal equilibrium (the temperature quits rising), and the components remain undamaged. Non-Continuous Duty motors are tested under load for short periods of time with the assumption that these motors will be used in settings where the loads will be very brief (a few minutes). Since our Continuous Duty motors need to withstand a tougher test, they need to be stronger and have more robust components to pass. That means heavier windings, larger brushes, stronger magnets…that is why when you look at our motors side by side with the competition, you can see they are much bigger.
Since our components are over-sized they stay cool and therefore last longer. There is even a built-in fan to provide more cooling to the motor.
Ok so let's talk controllers. As I mentioned before, heat is the ultimate culprit when comes to wearing out electrical components in your motor, the same goes with your controller. Our controller is much larger than most of our competitors because, again, we use larger more robust components that do not overheat.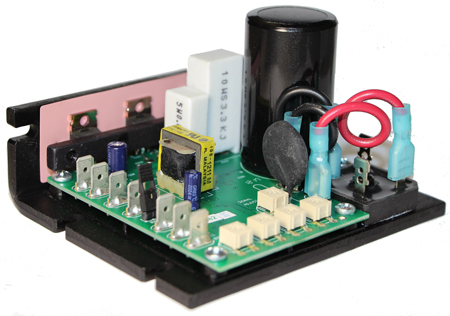 People are always talking about how smooth our motors run. One reason for this is how we adjust the setting on the controller in the factory. We turn the torque setting all the way up (because it can handle it) and most importantly, we turn something called IR Comp completely off. IR Comp is a controller function that attempts to keep the wheel head speed consistent when you apply resistance (throwing or centering large amounts of clay).
In our research we found that most potters want to control this themselves by pressing on the foot pedal. It gives them a sense of control as opposed to having the controller doing this for them. It's kind of an intuitive Zen relationship you develop with your wheel. One of the problems with IR Comp is the adjustments are not completely instantaneous (kind of like a beginning potter). You can feel a slight surge when you apply pressure to the wheel as the IR COMP kicks in and sends more voltage to the motor, likewise, when you release the pressure (take your hands off the clay) the wheel head can feel like it is accelerating until the controller can react. This can really wreak havoc on a large platter or pot. If for some reason you would like to have the controller make these decisions for you, let us know and we will tell you how to adjust the settings.
The bottom line is, try as many wheels as you can at varying HP ratings and find the one that fits you. Most people will be fine with a 1/3 HP motor, but, if you are throwing big stuff you might want to step up to the 1/2 HP or 1HP motor.
The Wheel Head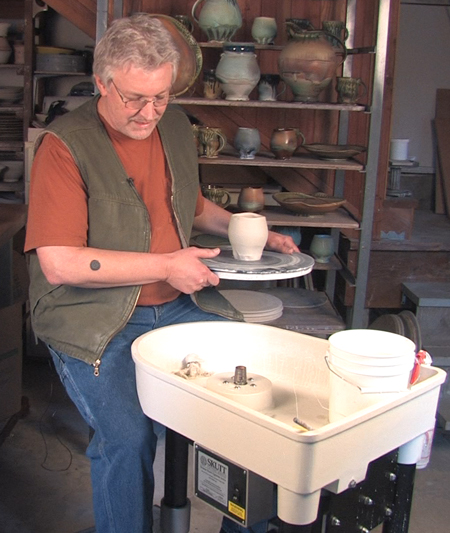 The Wheel Head on all Skutt Electric Wheels is removable! No, not with a screwdriver and a PHD in Engineering, just twist and pull up. This innovative design allows you to have full access to your splash pan for cleaning. If you have one of our removable splash pan designs you will definitely appreciate our one piece splash pan. No longer will you need to fuss with cleaning out your splash pan before you can bring it to the sink to clean like two piece pans. Just bring it straight to your clay reclaimer or trash can and dump it. It is that easy! It is also the thickest wheel head on the market so it will never ware thin, will not flex, and is nearly impossible to bend.
The Shaft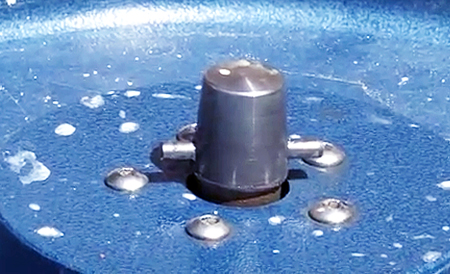 The biggest test of your wheel head shaft is to turn it lose on a big pot potter Like Scott Semple. Scott throws pots on over-sized bats that are over 6 ft tall. When you get that much clay, cantilevered out, that high…it puts a tremendous amount of stress on your shaft. Before Scott bought a Skutt wheel he actually bent a few. The shaft on a Skutt wheel is nearly twice the diameter of the competition.
The Controller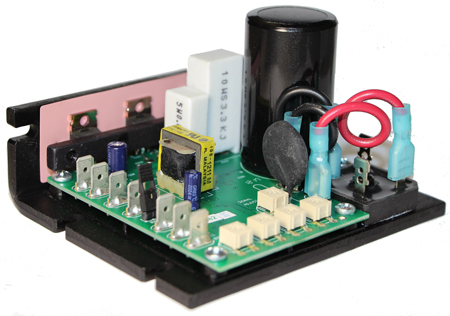 Okay, this might get a little technical. Our controllers use only the highest quality components. If you look at our controller side be side with competitors you will see that ours is often twice the size. This allows for larger, more robust components that are spaced properly to reduce heat.
Controllers have settings that determine the min/max speed, the torque,the rate at which the wheel head speeds up and slows down and something called IR Comp.IR comp on a potters wheel is designed to send more power to the wheel when it feels that it is being bogged down like when you are centering a large amount of clay or maybe when a student wants to see how strong they are. When you take your hands off the clay, the additional power to the wheel is brought back to normal because the resistance is gone. The problem with this is that these surges may not be perfectly smooth. If you are throwing a big platter this is not good.
This is why all Skutt Wheels are shipped with IR Comp turned off. Our research tells us that most potters prefer to control the needed power with the foot pedal.
The Foot Pedal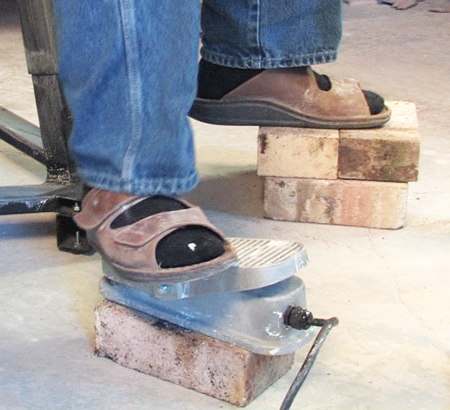 When you are talking about foot pedals the 3 most important factors are; the smoothness, how it ergonomically fits your foot, and how durable it is. Check, Check and Check! It was designed by a potter so it has to be smooth and feel good on the foot. He also knew he wanted to sell these things to schools and knew the constant abuse they would be subjected to so he built it stout using metal parts where others used plastic. You are going to love this foot pedal.
Built Like A Tank!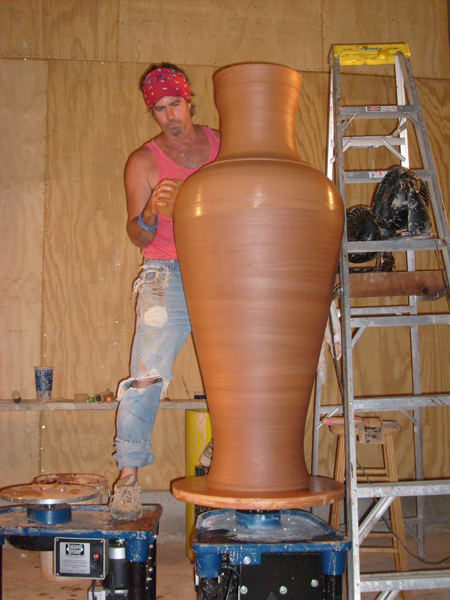 Everything on this wheel is stout! Potters can put a lot of force on a wheel. We use them to brace our legs, we push around clay on the wheel head, heck… sometimes we even stand on it. You want that base to feel solid.
The frame of the Legend is made of powder coated, 5/16″ cast aluminum. The legs are 1/8″ thick steel. The wheel head is the thickest on the market and the motor is the biggest.
If you are looking for a wheel you can pick up and take on a picnic, this one might not be for you. If you are looking for a wheel that will last a lifetime…look no further. Click here to hear some of the best potters in the business explain why they use Skutt Wheels.